Lodge Leadership Development Weekend and Brotherhood Ceremony
Friday, December 8 – 7:00 PM – Sunday, December 10 – 12:00 noon
New England Base Camp, 411 Unquity Road, Milton, MA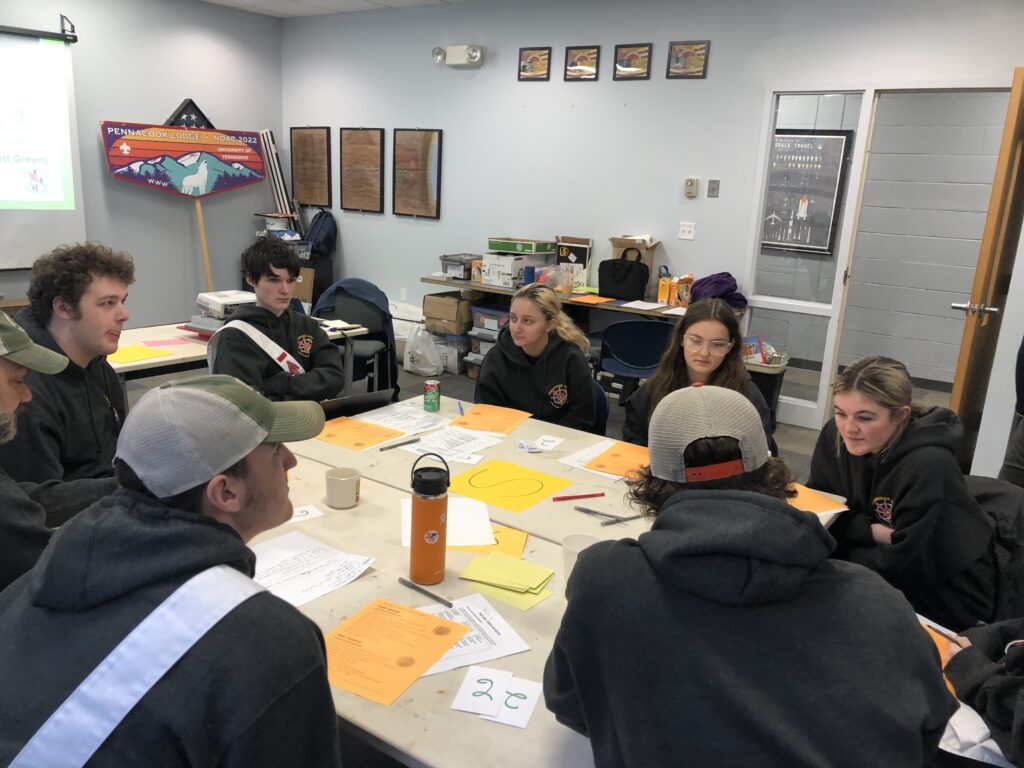 Come be a part of Pennacook Lodge's future by attending the Annual Lodge Leadership Development (LLD) Training Weekend on Friday, December 8 through Sunday, December 10, 2023 at New England Base Camp in Milton. LLD Arrowmembers will be staying in cabins, served all meals, provided all training materials, and will receive a free event hoodie and the official 2023-2024 theme patch!
Special Topics and Trainings to include: 
A special session with Pennacook's new CEO!
Understanding Our Leadership Compass- a new session for 2024
OA Unit Representative training – How can Pennacook Lodge better support Scouting's Packs, Troops, Crews and Ships?
Hands-on technical workshops on Ordeal managemant and 15 Blazes
Leading vs. Serving session
Marketing, Recruiting & Communications training
Be one or our Social Media Specialists
NOAC 2024 Planning – Pennacook Takes on Colorado & New Mexico!
A special session for Adult Arrowmembers: What's Your Role in 2024?
More trainings are in planning! Do you have an idea? Let us know!
Fellowship and Team building Activities:
Friday Night at the Movies
The Pennacook Chess Open and other Board Gaming
OA Trading Post – be one of the first to order your new personalized Pennacook merch branding this year's awesome theme!
Great meals provided by our OA Food Services Team
The Trail to Brotherhood Membership – Saturday, December 9, 2023
Ordeal Members inducted in May 2023 or earlier with six or more months of active membership are encouraged to complete their membership in the OA by seeking Brotherhood Induction. A Brotherhood Ceremony will be held during LLD weekend for all interested and eligible Ordeal Members. An additional fee of $25 applies to cover the cost of your new Brotherhood sash. Current paid Lodge dues is a requirement for Brotherhood. Please click below to pay your Lodge dues if not already paid for 2023 (if you were inducted in May 2023, then your 2023 dues are already covered through December 31, 2023). 
Transportation provided: Round-trip transportation is available for those North and West of Boston. An additional fee of $20 per person, payable in cash at the time of pick-up will apply. All pick-ups will be Friday, December 8, between 5:30pm and 7:00pm and drop offs Sunday, December 10, between 1:00pm and 2:30pm.Exact stop locations and pick-up times are TBD and announced soon, but with likely stops in Tewksbury, Danvers, Reading, and Waltham and Woburn, Medford and Charlestown. Maybe other towns, too, depending on registrations and interest. (If interested in transportation.