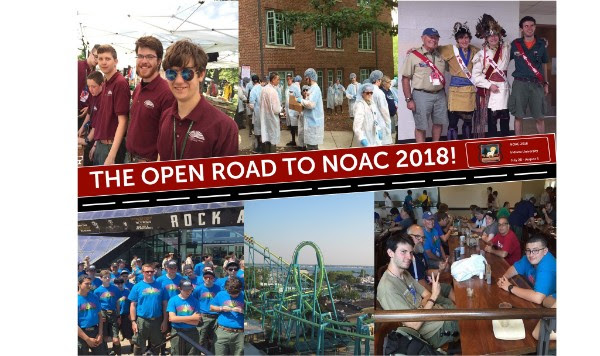 WHO IS READY FOR NOAC 2018?!
The National Order of the Arrow Conference is only 4 months away! This summer, from July 28 to August 5, 2018, Pennacook Lodge will venture to Indiana University in Bloomington, Indiana for NOAC 2018. We will be joining hundreds of lodges from all over the country for fellowship, fun activities, evening theme shows, ceremonies evaluations, trainings, and much more! Along the way to Indiana, Pennacook Lodge will even be stopping by Cedar Point Amusement Park in Sandusky, Ohio which boasts some of the best roller coasters and rides in the world. There will be so much to offer at NOAC 2018, so don't miss out on this amazing opportunity!
A recap of the NOAC information night that was held on April 15 can be found here.
The fee per youth Arrowman is $1,330 and $1,405 for adult Arrowmen and may be subject to change. This will come in the form of a $100 deposit due at the time of registration and 3 additional payments. The first payment of $500 will be due on April 30, 2018. The second payment of $500 will be due on May 31, 2018. Finally, the third payment of the remaining balance will be due on June 15, 2018*. Space is limited! Register today at the link below! Registration closes on May 30, 2018*.
The Key Foundation has announced that it will again award $10,000 in Patrick Doyle NOAC Scholarships for all interested youth NOAC attendees! Applications are being accepted until April 30 May 31, 2018 here. Recipients will be announced on or before June 8 for existing Arrowmen and June 25 for Arrowmen inducted in May or June 2018.
Yours in Brotherhood,
Arthur Q. – NOAC 2018 Youth Contingent Leader
*Arrowmen inducted in May or June 2018 have extended deadlines.
Last day to register for new Arrowmen – June 21
Last day to apply to Doyle Scholarship for new Arrowmen – June 22
Final payment due for new Arrowmen – June 27